Industrial Enquiries
+233 (0) 540125462
Automotive Enquiries
+233 (0) 556579372
+233 (0) 55 657 9339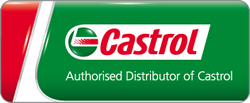 About Us
LUBRICANTS SUPPLIES GHANA LIMITED/ CASTROL
Lubricants  Supplies  Ghana  Limited, is a multinational company  proud  to  be  the  official and authorized distributor of  Castrol  Lubricants in  Ghana.
Castrol  is  one  of  the  world's  leading  manufacturers  and  marketers  of  premium  lubricating  oils, greases,  metal  working  fluids,  control  fluids  and  related  services  to  automotive,  manufacturing, mining,  marine,  and  oil  exploration  and  production  customers  across  the  world.  Castrol couples high quality lubricant engineering with an expert technical support network and supply capability to deliver quality solutions wherever customers need them.
As  a  truly  global  company  headquartered  in  the  United  Kingdom,  Castrol  has  13  Research  and Development  Centers  worldwide  which  enables  pioneering  research  and  development  of  advanced lubricant solutions and technical support.
Castrol's  extensive  product  range  is  readily  available  through  Lubricants  Supplies  Ghana  Limited to meet customers'  lubricant requirements.
Quality
We  guarantee  the  quality  of  our  lubricants  and  these  are  approved  to  meet  global  and  major Original  Equipment  Manufacturer  (OEM)  performance  specifications  and  the  highest  international standards of  quality  meeting  ISO 9001-2008.
Product Range 
A  complete  range  of  lubricants  are  available,  however,  if  the  product  required  is  not  available  in Ghana, we are happy to stock  it  here  if  requested.  Please  contact  us  to  discuss  for  any  special products  that  may  not  normally  be  available.
News/Events
Tata Motors and Castrol announce global strategic partnership Read more...
Castrol rides on lower crude prices Read more...